Wow, this sure does look amazing & promising!
TBI Rehabilitation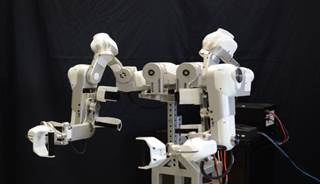 A first-of-its kind robotic exoskeleton may provide the first glimpse into the future of rehabilitation for people suffering from spinal and neurological injuries.
The exoskeleton, dubbed HARMONY, is the result of years of research and development by the ReNeu Robotics Lab at the Cockrell School of Engineering at The University of Texas at Austin. Ashish Deshpande, PhD, and colleagues designed the two-armed, robotic device to deliver full upper-body rehabilitative therapy using natural motion and customizable pressure and force. As a result, the device feels weightless to patients, and allows physicians and therapists to provide personalized, precise therapy and track and analyze data.
"[HARMONY] was specially designed to offer customized therapy for optimal efficacy," said Deshpande, assistant professor in the Department of Mechanical Engineering. "Not only does the exoskeleton adjust to patient size, it can also be programmed to be gentle or firm based on the individual's therapy needs."
Unlike currently…
View original post 222 more words